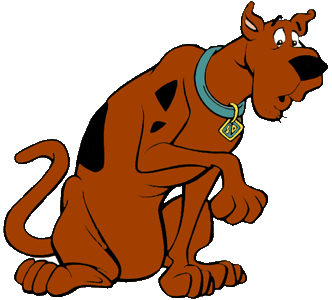 I've got good news and better news (assuming everyone wants a better draft pick next year, that is): Lo Duca is not only
returning on Tuesday
, but he's going to get some
PT in LF
. This is where the Scooby Doo picture comes in. Awuhhhhh?
According to
Ladson
, Lo Duca last played outfield and first base in 2004 with the Dodgers. Just because he played there when the Dodgers were trying to boost his value after he got off the 'roids (sound similar to what's going on now?) doesn't make it right! If you recall, Lo Duca pitched to David Wright in the 2006 Home Run Derby. Since he has pitching experience only 2 seasons ago (as opposed to outfield experience 4 seasons ago), are we going to trot him out there every 5 days? Do we need to even bother calling up Garrett Mock or Collin Balester or whoever comes up next?
Meh. Lo Duca will be about as useful with an outfielder's glove as I would be with a gorilla suit.
The only good thing to come out of this is that while Lo Duca racks up innings at 1B, LF and DH, Flores and Nieves will also continue to catch. Next time we need a call-up, hope that one of Paulie or Wil has heated up and move them for somebody's 2006 18th round draft pick to clear room.